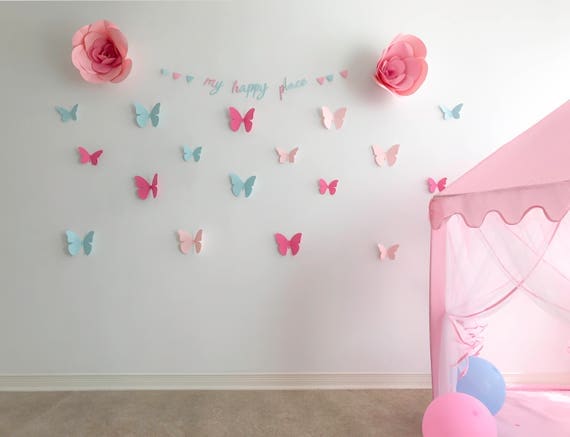 125.00 CAD
My Happy Place Wall decor makes the perfect gifts room decor for baby girl nursery and a big girls room decor.
It creates a whimsical and magical space for your child where she can express herself, be happy, silly, creative, imaginative and most of all be herself! A beautiful place just for her!
Give the gift of a Happy Place to the one you love the most!
This set includes:
1. 16, 3D Large paper buttereflies decals(wall decor) in 3 colours:
baby pink, Baby Blue and Hot Pink. Size 4-6 inches
Each butterfly comes with sticky tabs at the back, making it easy to stick on a clean and dry surface.
2. 2 large paper flowers in shades of pink, 10-12 inches each
3. 1 banner that says "MY HAPPY PLACE" with 3 triangle on either sides
Total size of the banner including triangles and letters: 37 inches.
letter size is 3 inch each length wise (approx)
Total size of the nylon wire inserted in the banner is almost 60 inches long.
The letters are layered by cardboard to make them thick and strong.
4. 1 triangle Banner in blue and pink. Each triangle is almost 2×2 inch.
Size of the banner is 50 inch total with all the triangles. Total size of the nylon wire inserted in the banner is almost 60inch
ALL these decorations can be orders in YOUR favourite colours, just message us and let us know what colour and combinations you are looking for and we will be happy to work on your custom request.
We can even do a gift wrap on request and include a personalized handmade card to match and compliment this gift set for a charge of 5$ total for both gift wrap and personalized card.
Message here: https://www.etsy.com/ca/conversations?ref=hdr_user_menu
———————
RUSH ORDERS:
The processing time for each order is between 1-2 weeks, if you want it to be delivered fast to you then let us know and we will send it to you quickly with additional speedy order charge.
—————-
Shipping Upgrades
All orders are shipped via Canada post WITHOUT tracking number, it takes 5-8 business days to reach within Canada,
8-12 Days to America
8-12 weeks to ship to Australia, Europe, Asia etc by surface (ship)
if You wish to go for a faster method of delivery OR a tracked packet, you can let us know and we will UPGRADE your sipping. Price and time of delivery for each country/destination varies so let us know how fast you want it delivered to you. before placing your order.
Oh! You can check out our awesome shop KomalWorks here and Like our Sop to get updates on new listings and Sales!
KomalWorks.etsy.com
Don't you Forget to Follow us on social media if you wish to see the cool picture of your order in progress, Yes!! we post pictures of your work all over our social media account so you can enjoy the stages and progress of your order and like them and share them with your peeps! Hey! Use our hashtag as you share the pictures #KomalWorks @KomalWorks 🙂
ETSY: https://Etsy: KomalWorks.etsy.com
https://www.instagram.com/komalriz/
https://www.facebook.com/KomalzWork/
https://twitter.com/KomalRiz
komalworks.tumblr.com
https://www.pinterest.com/komalworks/
https://www.youtube.com/channel/UC6YDzX2Lo4x4MJptuZ7tDPA/videos
All the items listed at KomalWorks.etsy.com are hand made and may vary slightly from each other and from the posted pictures.
All the items are decorations and not toys, Please keep them away from children.
Enjoy your decorations!