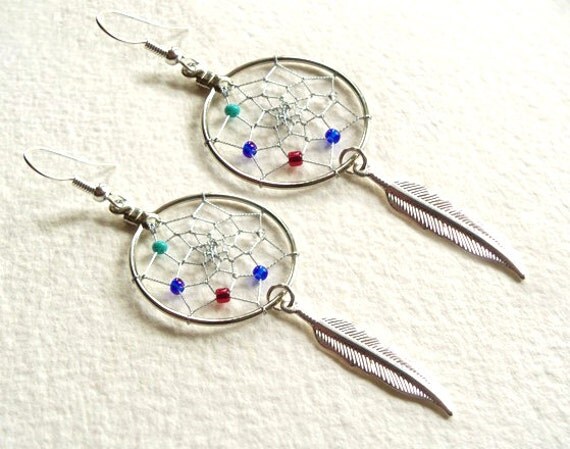 15.00 CAD
I have taken on a new idea for my dream catcher earrings. I feel that these are more personable and a more valuable cherished gift to the person given.
Family means so much to me, as I presume to many others out there as well.
(Shown is my family, if you look closely on the right side, there is the month of April).
HOW TO ORDER- PLEASE LIST
FATHER month
MOTHER month
1st Born CHILD month
2 d Born CHILD month
3rd Born CHILD month
and so on.
925 ss plated earring fish hooks and feathers.
Diameter- 2.4cm
Organza Bag Included!
Dream Catchers have many different legends and myths. One of my favourite story is about a young woman who had lost her husband by war and she became depressed and cried through the nights having bad dreams of her husbands death. A spider on the wall of her wigwam watched her every night and wanted to cheer the woman up and the spider began to weave a web on her window of the wigwam. When the woman woke in the morning, she noticed the dream catcher and was pleasantly surprised and curious of where it came from. The spider spoke and told her that as she watched the woman through the night the spider noticed that she was sad in her dreams and that the dream catcher would filter out the bad images of her dreams so that she may have happy dreams of her husband and remember him in a positive way. The dew signifies that the negative dreams were caught in the web, sparkling in the morning light. Each night the spider would work its magic and weave the dream catcher for the woman and from then on, the woman was much happier and able to move on in a positive way. These stories come from the Ojibway people and to this day are world known. As I had mentioned, there are many different stories pertaining to the dream catcher, this one is my favourite. The basic truth is that they are made to leave the negative energy (thoughts) behind and let the positive energy (thoughts) through. I am proud to share my heritage with you through my craft.
I've been meticulous in these creations. All pendants are weaved with metallic thread. There are 7 points to give honour to the 7 Grandfather teachings of – Love, Honesty, Humility, Truth, Wisdom, Respect and Bravery.